iPage Hosting targets budget-conscious customers and is an established company in the hosting industry. They are part of Newfold Digital, a large holding company of hosting brands, together withng with Bluehost and HostGator.
This review will go over iPage to see if it really is the best web hosting service out there.
Now, I do want to be totally honest in this review, so…
DISCLAIMER:
This iPage review has been thoroughly researched with information and testimonials that are available online to anyone in the public. Any conclusions drawn by myself are opinions.
Pros: What I Liked
Has a range of customer support channels
And at the end, I'll answer some of the most often asked questions regarding iPage and web hosting in general.
But most importantly, you'll see the exact step-bey-step system that many others have used to grow their own successful online business to more than $40,000 a month in passive income.
This system made them swear off web hosting for good, because it uses some of the same skills but in a much more powerful and profitable way!
At A Glance
Hosting Plans: Web Hosting & WordPress Hosting
Tech Support: Live Chat, Phone & Knowledge Base
Uptime: Good (99.96% past 6 months)
Guarantees: 30-Day Money Back
Free Migration: No
Best For: Website owners looking for cheap, straightforward hosting
Strengths: Excellent pricing with simple plan
Weaknesses: Upsells and backend navigation
Promotion: Hosting Starts At $1.99/month
What Is iPage?
iPage is a well-known and trusted provider of affordable web hosting services online. In fact, it's one of the cheapest web hosts available today.
They offer hosting and a range of complimentary website products, such as domain names and website builders (e.g., their iPage Builder).
iPage offers a variety of web hosting options, including shared hosting plans, VPS plans, dedicated servers, and custom products like WordPress hosting.
Is iPage Legit?
Yes, iPage is legit. They are a well-established hosting company that is also owned by Endurance International. Endurance International is the largest internet service corporation.
iPage began in 1998. Since then, it has steadily grown to become one of the biggest and most popular hosting companies. iPage has been known for being a simple, straightforward, and affordable hosting provider.
iPage can be trusted. They are not a "fly-by-night" hosting company.
What Is iPage Used For?
iPage allows you to host web applications and websites. They are known for offering affordable hosting plans and free website software. They have one main iPage goal but provide a whole suite of products, including domain names, hosting, email, and even web designing.
There are many iPage customer reviews online. Most often, they have user-generated reviews based purely on anecdotes. I find that this is perfectly acceptable, but I look at the pros and cons of each host.
It's about finding the right match based on your goals and resources, which I've already stated in all of my hosting reviews. Here are my pros & Cons and an overview of iPage's products.
iPage Hosting Plans
iPage offers a broad range of hosting packages. Below is brief overview:
Web Hosting
Web (i.e., Shared Hosting) hosting is the core of the web hosting industry. They consist of individual accounts running on a Linux Server. They can host WordPress or any other application installed on a Lamp Stack. This is an economical and reliable way to manage most websites.
Plan: Web Hosting
Intial Price*: $1.99/mo.
Renewal Price: $7.99/mo.
Websites: unlimited
Storage: unlimited
Bandwidth/month: unmetered
Free Domain Name: 1 year
Free SSL: yes
CDN: –
Dedicated IP: –
Daily Backups: –
* Pricing/mo for a 36-month subscription
WordPress Hosting
WordPress can run on shared web hosting. However, many hosting companies offer WordPress hosting plans. This is due to customer demand and the hardware requirements of WordPress. Many hosting companies offer WordPress hosting "exactly" like their shared hosting plans.
iPage does offer a WordPress Hosting package. It's really just a shared web hosting plan with pre-installed Plugins.
VPS Hosting
VPS hosting is an excellent way to obtain a certain amount of server resource allocations without leasing a whole server. It gives you complete control over your server resources, even if your website is on the same servers as other sites. iPage offers a range of cheap VPS plans.
Dedicated Hosting
Dedicated hosting means that the entire server can be rented. It allows you maximum control over your server's performance and performance. iPage offers a range of affordable dedicated hosting services.
iPage Website Builder
Website builders are available in various formats, including drag-and-drop and template-driven designs. They can be used to create websites from scratch or use templates. They enable people to get online with websites that require little knowledge or the tediousness of HTML/CSS. Many website builders use their own hosting to provide their software. You can see:
Wix
Weebly
Squarespace
Jimdo
Strikingly
WordPress.com
Hosted website builders come with a lock-in. Self-hosted websites builders do not. iPage offers a self-hosted template-driven website builder. It comes with a hosting package and provides many features and ease of using a host website builder.
What Can I Do With iPage Hosting?
Yes, there are plenty of other business models to choose from if you want to pursue this making money with websites.  Here are just a few:
Pros Of iPage Hosting
There are many iPage Hosting reviews online. These are primarily user-generated reviews based upon anecdotes or personal experiences. You can take that approach, but I do it differently. As I said in my other hosting reviews, you won't find the "best" host. It's all about finding the right fit for your project based on goals, budget, experience, and expertise. Here are some of the benefits of iPage.
Plan & Feature Simplicity
In the hosting industry, confusing pricing plans are one of the biggest problems. The pricing plans of company plans are rarely comparable, so it's difficult for customers to compare.
Some companies cap the number of websites per company, while others add bonuses to high-end pricing. The middle (or "Best Value!") is often a mixture that will get you to make an informed decision.
iPage has one significant advantage: its simplicity. They offer a shared hosting plan. It gives unlimited access and control to the three "Ds" (which I refer to as the core components of what you're buying). They allow unlimited Domains (i.e., how many websites can you have on your account); Unlimited MySQL Databases (how many software installations you need to run your websites); and Unlimited Disk Space (i.e., unlimited storage space).
iPage's plans include unlimited email addresses, unlimited bandwidth, and a complimentary SSL certificate.
All unlimited accounts have file sharing and abuse policies. iPage can't allow anyone to access other customers' websites as several customers share the servers.
iPage does offer a separate group of WordPress Plans. The best part about it is that they can run WordPress. I'll detail this item in the cons section. However, their WordPress hosting page acts as an upsell and is nothing special.
IPage offers a single plan that includes all the primary features regardless of your preference, making it easy to compare.
Value Pricing
Hosting companies generally offer standard pricing. The discount they give depends on how long the customer has been a member. Most hosting companies offer a discount the first year.
iPage's pricing is generally the same. You pay $9.99 per month for their plan and can renew at $7.99 per mo if you sign up 3 years in advance.
iPage gives you the option to sign up at a reduced rate for as long as 3 years. Three years of unlimited web hosting are available for as low as $80. This is excellent. That's a rare find, even among budget-minded market hosts.
There are a few things I need to mention about the cons, but the massive discount for a long duration with unlimited features is excellent.
Customer Support Channels
As stated in some of my hosting reviews, a company can't provide exceptional customer service to all customers. It's difficult for one customer to judge if they deal only with one person or its entire culture.
I have only limited experience with customer service reps at iPage. But I did find 2 customer services indicators at iPage – one Pro and one con.
iPage offers support available 24/7 through all channels – email tickets, chat, and phone. They make all support channels simple and easy to find. They also offer a great money-back guarantee.
That range of support channels makes a shared hosting company affordable and can help you stand out.
Despite all that, the big asterisk refers to the budget sharing hosting company part – while iPage might offer great support on the surface, they are not selling a service, but the price. I wouldn't be surprised if they provide high-quality, sustained support at companies like SiteGround.
Cons Of iPage Hosting
iPage comes with limitations, just as any other web host. There are many iPage complaint sites online. While some of them are valid, others are merely anecdotal. Here are the cons that I experienced while using iPage.
Upsells Throughout
Hosting industry upsells are common. They are a valuable and common way to increase the number of services customers receive while also increasing revenue for the company.
However, there is a point at which upsells cease to be helpful and become frustrating and confusing.
iPage definitely crosses the line. They even go over GoDaddy's notoriously high-pressure upsells. Every upsell can be found from iPage, starting with the initial signup and continuing to your account until the backend to your website. Some are very sneaky…like, adding them to your cart without you knowing.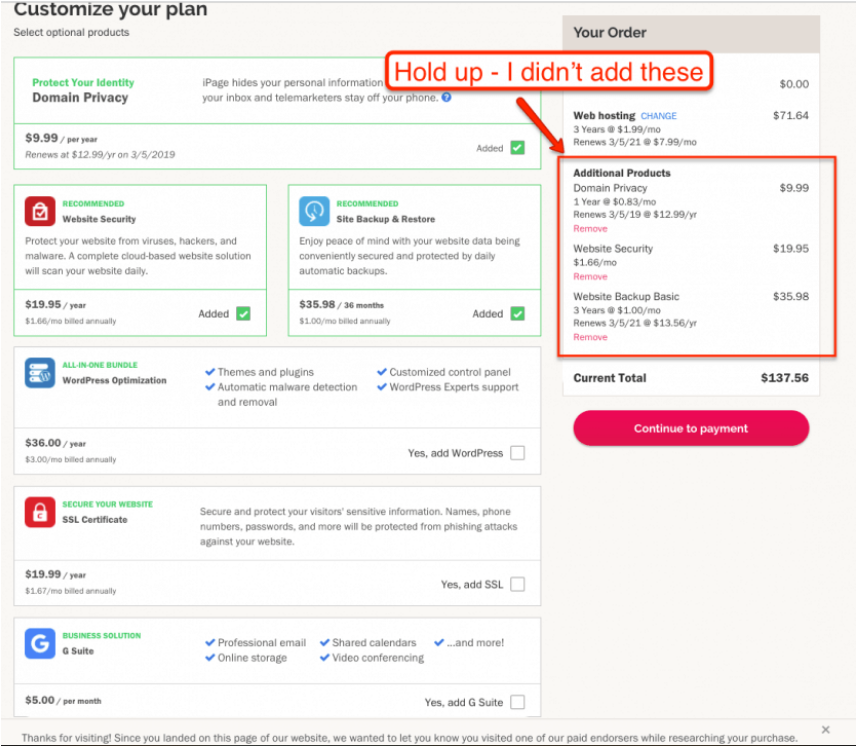 You can even purchase premium WordPress plugins from them directly through your WordPress installation.
While some offers can be very appealing, the majority are not. These are simply re-worded benefits, which technically are already part of your account.
iPage even has a dedicated page for WordPress Plans that focuses on upselling features which aren't actually features. The Essential plan will run WordPress. But, they have additional features that they can upsell to WordPress users.
WP Essential does include some features, like SSD servers. However, this plan is mostly fluff. It doesn't have custom WordPress features like SiteGround, WP Engine, or InMotion.
Either way, there is no need to signup for any upsells. But, this disadvantage can make it difficult for you to choose iPage.
Mediocre Performance
A good web hosting server will store your website files and deliver these files as quickly and efficiently as possible each time a visitor accesses your domain name.
Many variables impact the speed of your website. You can have the fastest web server in the world but still have a slow website due to problems on your part. You still need to work on your end of the equation, so make sure you have a reliable hosting server.
iPage uses a Burlington-based data center and throttles memory allocated to my servers by a minimal amount.
They offer outstanding bandwidth and uptime. Here's how their server performed when I first set it all up.
Web site speed can have many components, but Time to First Byte (TTFB) is the best way to assess your web host. . This shows how quickly the server provides the first byte after a browser sends a request.
iPage may not be the best-performing website, but it is fine if you have a small website with only a few visitors.
Knowledgebase & Self-Help Support
One indicator of customer service culture that I am most interested in is the knowledgebase and self-help sections. It's usually a good indicator that customer service is provided by a company that has made significant investments in these resources and has staff that actively monitors the comments.
iPage has neither.
Their knowledge base does not match that of other companies. They don't have any staff interaction within their knowledge base, making it difficult for customers to submit tickets to customer support if they need a quick fix.
Custom Backend
A hosting account is set up with a backend dashboard that allows you to access software installation (such as WordPress), reset password information, and create an account. Most companies use software called cPanel. It's straightforward to use. Some companies will be able to do it beautifully but .still stick with the same software. The great thing about cPanel: it's very commonplace, and it's often easy to find solutions for problems.
iPage doesn't use cPanel. They have a custom-built backend using software called "vDeck." It's OK and confusing at the same. It's certainly outdated compared with the cleaned-up cPanel-based backends you'll see with hosts such as Bluehost and InMotion.
iPage does offer auto-installs for most software, such as WordPress, Joomla, and other popular ones, but they also use custom scripts to do so instead of Softaculous/ Fantastico. Their custom script can be more confusing and complicated than other hosts.
On the other hand, can manually install the software. Auto-install makes the process much simpler and quicker.
Although iPage's backend works fine and is well-maintained, it is a disadvantage compared to other hosting providers.
Is iPage Worth It?
Overall, iPage does an excellent job for what it provides. They are fine for small websites. Their main selling point is their deep discounts on plans which you can lock for 3 years.
What Is My Top Recommendation For Making Money Online In 2021?
Our review team has come across a program in the real estate industry that is next level!
Although it's not real estate in the traditional sense, it's all digital.
Where iPage falls short is in scalability.
You can't realistically expect to be able to make passive income when you have to watch your store and manage ads all day.
But what if you leverage it?
With this digital real estate program, you can have the ability to completely walk away from the laptop because there is no ad management!
Sound too good to be true?
Of course it does!
But it isn't… in fact, business owners wish they had this skill!
All you have to do is build and rank a website and forward the jobs off to a business owner in town, you could even email it to them!
This works for literally any service based business, tree service, plumbing, towing, etc.
How do you get paid and how much?
Simple, after you forward the jobs off to a business owner and he makes some money off of them, you simply ask to make the deal beneficial for each other.
A fair price to charge per lead, depending on the industry is 10-20%…let's just use the tree service industry for example and go by worst case scenario.
Let's say you build and rank the site and only 10 jobs a month come in. The average tree service job is anywhere from $500-$2000!
That means at bare minimum you have an asset worth $500 a month!
See why they call it digital real estate now?
That's a rent payment.
The great thing is how easy it is to scale. You don't have to answer the phone…all you have to do is get the phone to ring.
Remember iPage and all the small profit margins?
This one actually allows you to collect that without being on the laptop managing a store all day. Truly passive income!
The training program takes making money online to a whole other level. The owner of the program walks you through how to build and rank a site hand in hand, with the occasional voice over when he is sharing his screen.
You will learn the importance of keywords, website name, how to send call notifications via email, backlinking, etc.
Once the training program is completed you will also have access to a Facebook group much better than the iPage group in our opinion. This group is much more active.
Unlike iPage, where you have to run ads all day and worry about getting a $5 profit off a $50 product 1,000 times over…. A business will always want more leads and another job. In fact it doesn't even matter that the job isn't coming from their website name…they see it as it is…expanding digital real estate.
Unlike iPage, more people have been able to walk away from their 9-5 job as well.
Digital real estate allows you to have total passive income with most of your day being spent OFF the laptop.
Now, I know you probably have tons of questions… So, check this out to learn more.